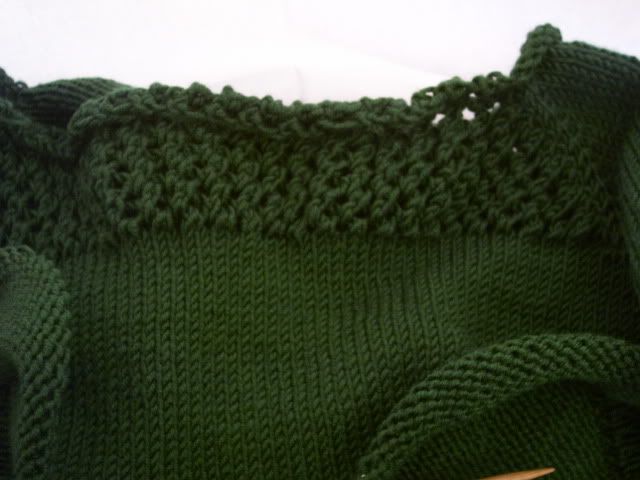 This photo is terribly out of date. It was about at this point that I realized I had knit the first row in the wrong direction. Ridiculous, no? I guess I was just skimming the pattern instead of actually reading it, and I assumed that if you are going to knit something in the round you join it immediately after casting on. Lesson learned, I suppose.
This is the first thing that I have frogged completely. I definitely had a hard time with the idea of starting over, so it spent a few months just sitting around. I didn't really have time to be knitting anything, so it wasn't that I was intentionally neglecting it, but it helped me gain perspective.
Knitting this has taught me that the extra time it takes to remove stitches from needles and place them on scrap yarn is worth every precious second. It definitely makes it easier to try something on if you aren't worried about stitches falling off in the back, and isn't the ability to try something on the whole point of knitting from the top down?
I've finished all of the knitting and woven in the ends. One thing that puzzles me, though, is how to block something like this. I can't remember ever coming across information about blocking apiece knit in the round from the top down. I guess a trip to the library once I get home should provide some answers.
For some reason I thought it would be a good idea to bring a camera with me and leave the cable connection at home, so I can't post a current picture for a few weeks.