I don't have very much practical experience as a knitter, and I know that when it comes to pattern and color choice I'm fairly unsophisticated. I'd like to say that I consider a pattern and yarn choice separately, but the truth of the matter is that if I'm not drawn to the color in a photo, I'm not likely to consider knitting a pattern. I'm also a bit wary of substituting yarns, having recently made the poor choice to knit a summer type of garment in a fall or winter weight yarn. The top is more than fairly ridiculous, but I'm waiting for proper fall weather before making a decision about frogging vs lengthening the arms (I have plenty of yarn left over).

Because of a general skittishness with changing yarns and colors, when I fell in love with Alouette (from Rowan's Vintage Knits) I decided to wait until I could find 4 ply soft. I think Webs started to carry it simply because I queried their search engine so many times. They don't have the colors I'm looking for, though, so I tried a local (and very upscale) knitting shop. It was an unsuccessful attempt, so they started suggesting substitutions. All of the substitutions seemed very, very expensive. The only price tag I can specifically remember was for a ball of cashmere, which was $25 for a tiny tiny ball of yarn. I'm talking in the neighborhood of 25 to 50 grams. Now, I know knitting is generally an expensive hobby, but I am not prepared to spend from $225 to $450 for a single sweater. For one thing, the pressure might crush me. I might even stop knitting altogether.

Okay, that won't happen, but can you imagine the guilt? Buying more than $200 worth of yarn and then not touching it? I know this is what people generally refer to as, quote, "stash", but I don't think I am constitutionally equipped to handle the inner drama.

In their defense, the women who worked at the local shop suggested many different yarns, not all of which would have doubled the cost of the sweater, but I was so shocked by the cashmere that I blocked everything else out. I think I murmured something of a vaguely negative nature before retreating to the section marked "SUMMER SALE" in large, yellow letters. Clearly I had found my corner, and switching to Blue Sky Cotton from another worsted weight yarn for the Vogue Short Sleeve Cardigan was much less scary than speculatively buying 1,700 yards of fingering weight.

I tend to wear lots of neutrals. Just the day before my mom said, "I have a question. How does someone who loves bright color so much [that's referring to me] end up wearing so many boring clothes?" That may not be an exact quote, but the gist was "Why do you always wear gray?" Besides all of the neutrals, I usually have one color dominating my wardrobe. I am sure this is entirely driven by the fashion industry, since everybody else seems to be wearing a lot of green lately too. I would not say that I am against wearing pink, I have just already gone through my pink phase. I hate to say it, but switching to a pink instead of a tan was very close to the boundary of my comfort zone. I bought the yarn mostly because my mom liked the color, and I felt bad for dragging her to a yarn store that didn't even have colors of Calmer to look through. It didn't help when I found out that the colorway is called Shrimp (not a fan). I wasn't sure about the color when I cast on the next day, and I wasn't sure about the color when I sat knitting for six hours while my mom had her first chemo treatment. That's a lot of not being sure about a color.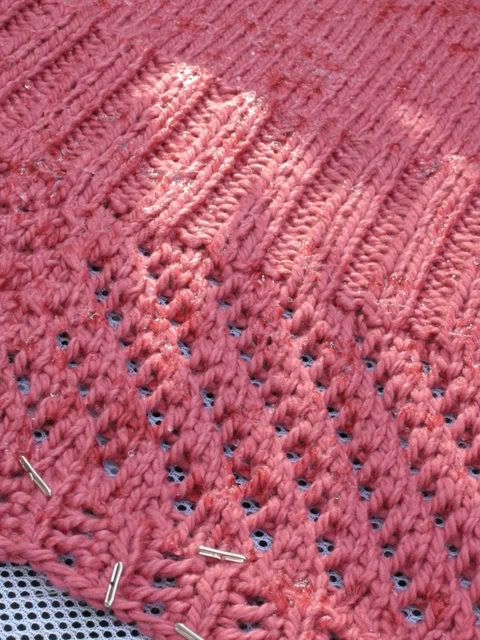 By now I think I'm convinced, if only because my love for the process of knitting this has worn off onto the product. As long as this fits it should be fantastic with my green skirt. I really need to get better about this separation of patterns, yarns, and colors, though. I feel like I am usually trying to make an exact replica of what I see in a picture, with only the occasional tweaking. It was a big shock to hear how many modifications Jenny and Nicole make during the most recent episode of Stash and Burn; even more shocking was the huge variety of modifications suggested for the Corset 9 on Knitting Daily (if you haven't signed up yet, you should consider it; for one thing, there isn't a ten thousand million person waiting list). I would like to cultivate that type of independence in my knitting, and I think the best way to push myself is to try designing something from the beginning. I am so impressed by Mandy at zigzag stitch, her first sweater design had steeks! And a zipper!

I might be up for a vest.