Finishing up this hat was intoxicating. I had worried about switching to dpn's, because I had trouble keeping a smooth join in my Norwegian Stockings (and that was using two circular needles). Fortunately, Calmer is very forgiving, and changing the position of the joins every row definitely helped. The ob
ligatory view from the top: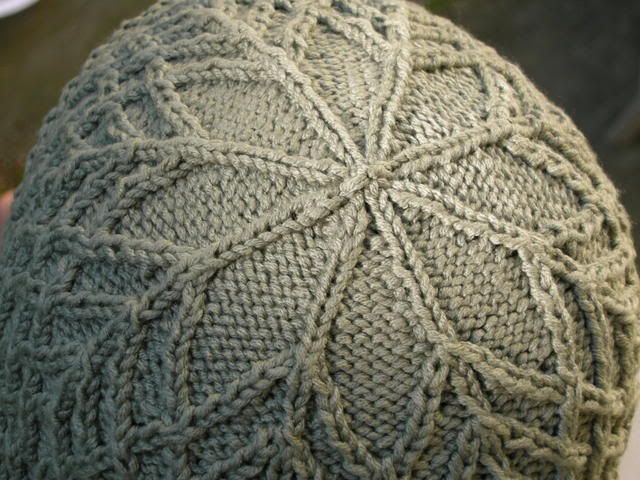 Do you see the section where two cabled braids begin to merge and form arrows pointing to the top? While I was knitting that section they reminded me of flying buttresses on huge cathedrals. It's a bit hard to see, now that the whole pattern of the star is visible, but I really enjoyed that section. I quite enjoyed the whole thing, actually.
Towards the end of the arrow-y bits I realized I'd been doing the centered decreases incorrectly, not slipping two stitches knitwise. Slipping them knitwise makes the decrease disappear, fading in as a regular knit stitch, and you might be able to see the difference between the two decreases in the bottom of the photo above, near the middle.


When you give someone a gift that you made, do you feel compelled to point out your mistakes? I fight the urge, but sometimes I cave. I know that they wouldn't see it otherwise, and it usually serves no purpose to tell them. But what if the person you give it to is a knitter? What if they are learning how to knit, and you're teaching them? Does it make a difference if it's your mother?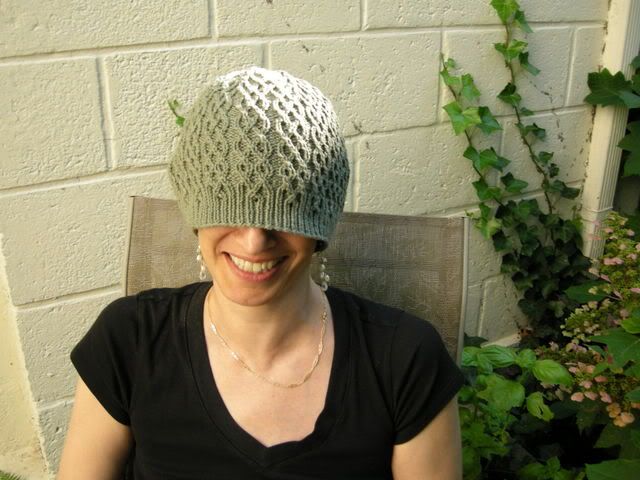 I showed her my mistakes. I think she likes it anyway, no? Goofball. Technically she isn't learning how to knit
, as she has the knit and purl quite well covered. She knit me a sweater when I was born, as well as a striped blanket with some kind of zigzag eyelet pattern. She hasn't knit in a long time, though, and I'm trying to entice her back to the craft. I eased her into it, suggesting a felting project. "You could make coasters," I said, "for presents." She liked the idea; a lot of people have been checking in and making sure she's okay, and making small thank-you gifts seems appropriate. We got all the way through the felting process, but I must not have warned her to bind off loosely, because the whole thing is curved like a piece of Brio train track. (Brio trains are so much fun!). After felting that first piece, I could sense enthusiasm was on the wane (evidence: leaving the yarn behind while going to a doctor's appointment. Not good. What else is the waiting room for?) so I promptly suggested another project. A scarf! Even better: for me! And here's where I go in for the kill: in Manos del Uruguay!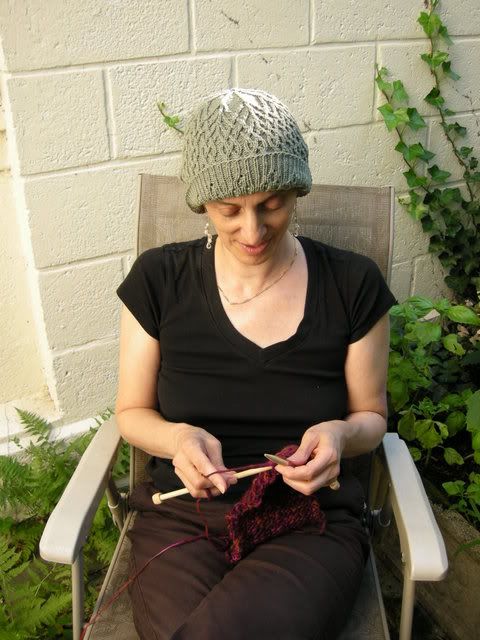 Hah. She's besotted. For a while I worried that the My So-Called Scarf is too tricky, because the stitch pattern is hard to read, especially if you're just getting reaquainted and you're using handspun. Not having made it myself, there are definitely times where her stitch count is off and all I can contribute is a puzzled shrug. However, I think something that challenges you is a better hook than something that is beautiful but tedious. The only other scarf that I've had my eyes on is the striped Noro, and I worried that feet upon feet of 1x1 ribbing would be too much even for the most enthusiastic recruit. I tend to prefer variegated yarn that isn't all out craziness, and this has just enough zing.