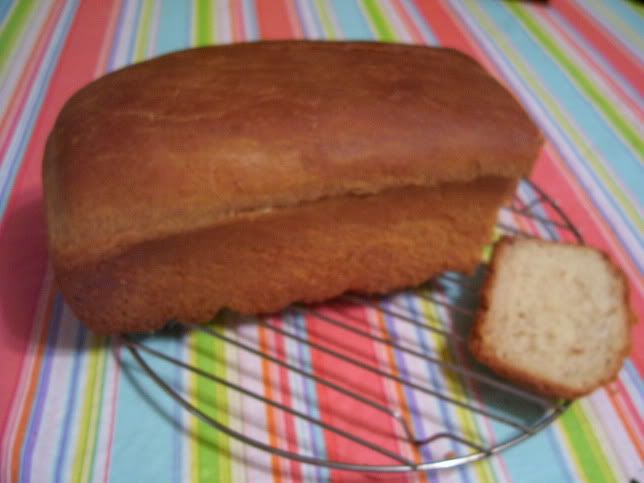 As you can see, I forgot to take a picture before we started eating. The recipe was from the back of our 10 lb bag of King Arthur flour, and it came out pretty well. I'm surprised they don't have the recipe in the huge
Baker's Companion
cookbook. When we're done with the flour I think I'll clip the recipe and add it in. It seemed like an unusual recipe to me, as they have you knead on a lightly greased surface instead of a lightly floured surface, but in the
Baker's Companion
they come across as very much against adding extra flour. It was far to sticky for my liking, so added a small handful anyway.
Mo and I were watching a movie, and I accidently let it cook for nearly an hour instead of the 35 minutes they recommend, but it still wasn't burned. The crust is probably a bit thicker than intended, but it's still delicious and perfect for sandwiches. What I like most about this recipe is that the bread only has to rise for an hour before being shaped, and then it sits for an hour, and then it only bakes for a half hour. As long as you are paying attention, that is. The difference between a one hour and two hour initial rise is huge, at least in my eyes. I know that bread develops a better flavor if you leave it to rise for longer, but having a backup recipe is nice. The potato bread we made several times earlier in the summer became a full afternoon's project, whereas this recipe was possible to start with dinner in order to have a loaf ready in the morning for lunch. Our sandwiches, by the way, have chicken with melted mozzarella and homemade pesto, heavy on the garlic. I can't wait.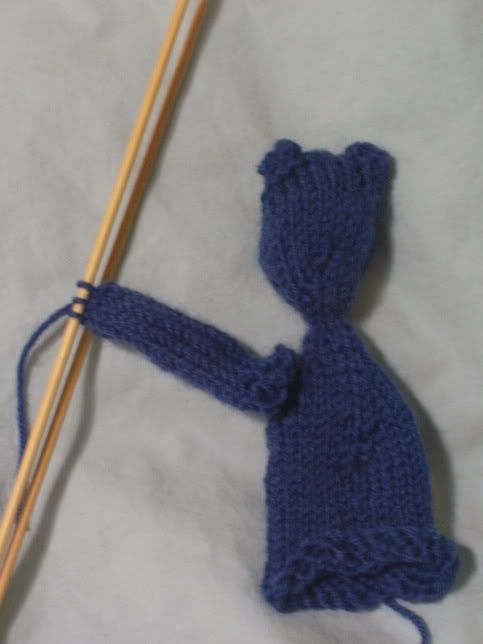 This is what the teddy bear looks like right now. Pretty tiny, no? The arm isn't attached yet, since I haven't actually finished it, but I'm stuck at the end of the first arm. The instructions say to graft together the remaining five stitches, which I've never done before. Mo found me an article that explains how to do it, but the article is insistant that there are an even number of stitches. I decided that fudging on the instructions for something I've never done before should wait until I could give it my full attention. I also don't know if I have a tapestry needle, so this teddy bear might end up with pointed arms instead of an invisible seam. I'm excited that even with this small project I've already learned an increase method, and I could potentially learn a joining method that at present looks entirely baffling.