You know that weird situation that happens where you spend an inordinate amount of time making a gift and the person you give it to
just doesn't get it
? They just have no conception of how much care and effort went into what you've given them? There's a funny version of that, too. I gave my friends the linen facecloths, and they were touched, and appreciative, and clearly impressed, and we spent a great deal of time talking about them. We talked about how to take care of them, details about how they were made, which one was my favorite, &c. &c. Then as I was leaving I realized they hadn't a clue how they were meant to be used. Absolutely no idea. This is the second time this has happened to me recently, too, which means I should stop being lazy and start making up cards to give along with presents.
"Dear so-and-so,"
they will read,
"I know how much you ______, I hope you enjoy this _____/nod and smile/thank me and hide it away in a cupboard."


Oh well. I guess I could have been clearer, or mentioned earlier on what their purpose was, but it just didn't seem like there were any doubts.
At least what I finished today shouldn't have that trouble. Mo has already seen this in progress, but it got hidden under my bed and forgotten, so it should at least be mildly surprising.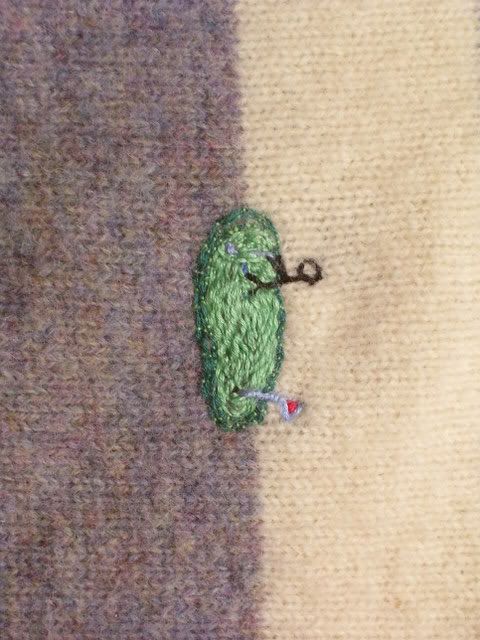 I think Mo found this at a thrift store, but it came with a giant moth hole. Fortunately for Mo it was in a good place for an embroidered patch. This is the first thing I've embroidered following my own design. I hadn't planned on changing the color of the grass, but I couldn't find the same colors of thread that I used before, and I think it makes sense to have a lighter putting green anyway. I'm modeling it here so you can see placement a little better.