This summer Mo and I craved these spring rolls and walked for two hours to get the rice paper. Unlike Thai spring rolls, which are fried, these are light and refreshing. They can take a while to prepare, but if you can cook the tofu ahead of time it goes much quicker. The only specialty food involved is rice paper, which I've found at both international food shops and Whole Foods. Rice noodles also might be a bit tricky, but I haven't usually had a problem finding them. The rice paper I use comes in a package like this: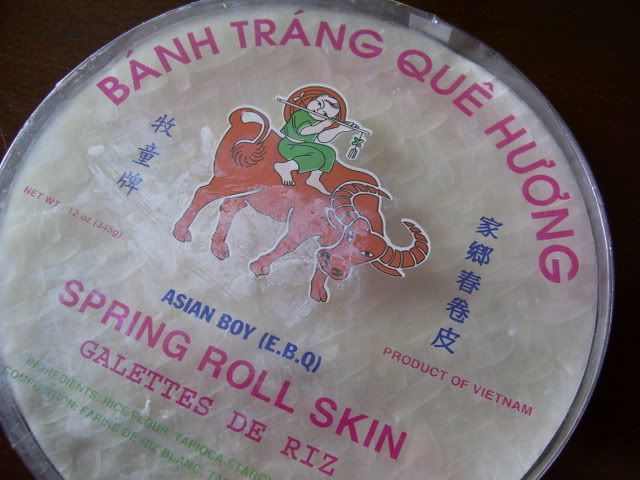 Ingredients:
Tofu (extra firm)
Vegetable oil
Fresh mint
Fresh cilantro
Rice noodles
Rice paper
For dipping sauce:
Natural peanut butter
Hoisin sauce
Instructions:

1. Place the tofu between a few layers of paper or cloth kitchen towels, and put a heavy-ish weight on top to squeeze out water. Once the tofu is no longer soaking wet, lay it face-down on the counter and cut through the middle, as if you are cutting a thick slice of bread into two pieces to make a sandwich. Saute/fry these tofu slices in the vegetable oil, and then cut into strips: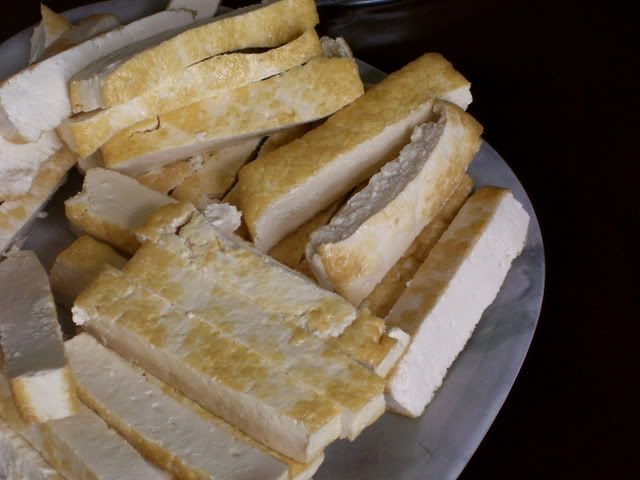 2. Cook the rice noodles, following the directions on the package (this should be very quick, don't let them overcook). When the noodles are done, you can save the water for the rice paper by pouring it into a separate bowl.
3. Wash the cilantro and mint, pick the leaves off of the stems, and allow to dry (or blot, if you're impatient).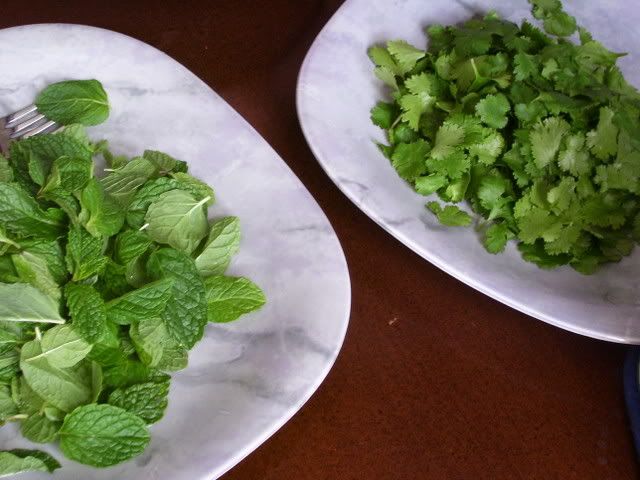 4. Now you have all of the ingredients ready, and you can begin to assemble the spring rolls. If the water from the rice noodles is too hot to touch, pour some of it off and add cold water. Take a piece of rice paper, and dip it into the water, getting the entire surface wet. It can still be a little stiff when you pull it out and put it onto the dish you will use for rolling.
5. Place a small amount of noodles, a piece of tofu,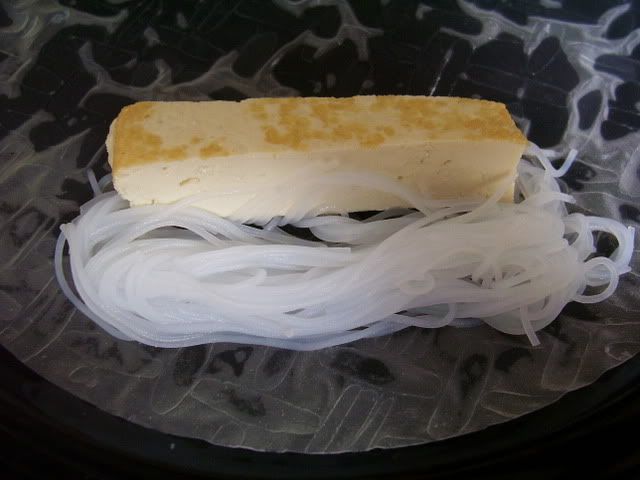 some cilantro, and some mint near the edge closest to you.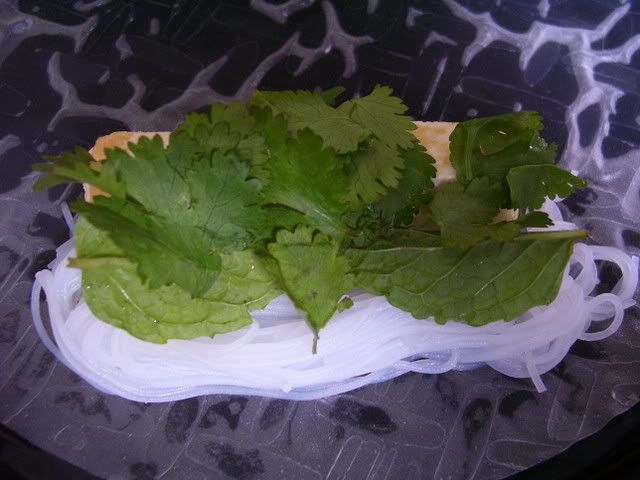 6. Fold the edge up and over the insides,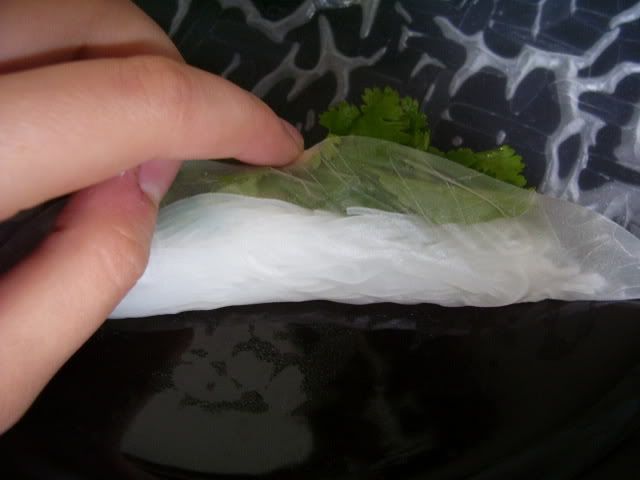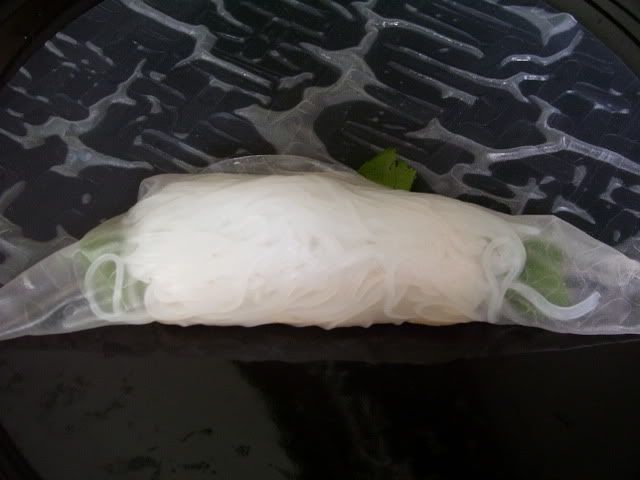 fold in the two sides,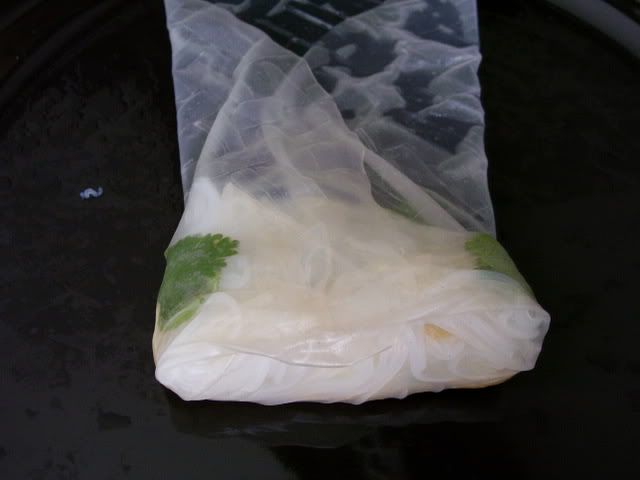 and roll tightly forward.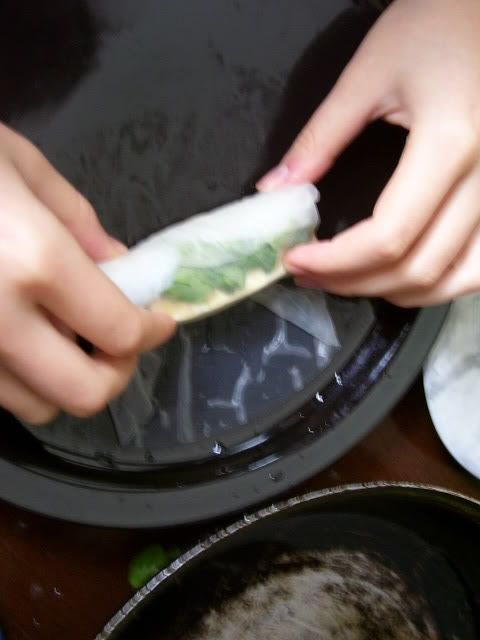 7. One down, 19 to go! If the spring roll seems like it is bulging out, try using less of the rice noodles in each roll.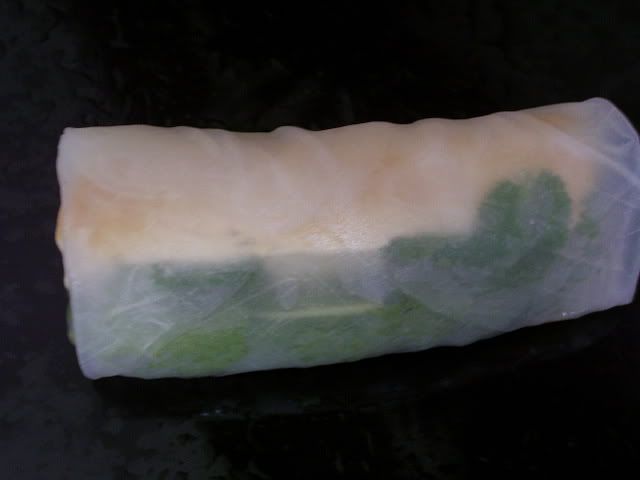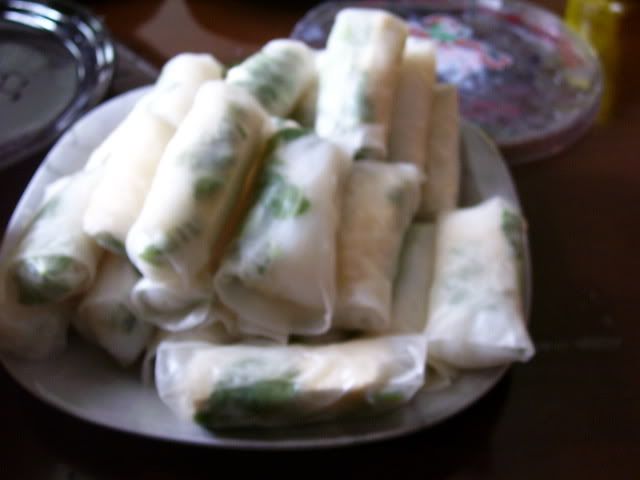 8. Once you have a platter of spring rolls, it's time to make the sauce. Spoon about a third of a cup of peanut butter into a pan, add about two tablespoons of water, and turn on a low flame. Stir in hoisin to taste.
Essentially you can put anything you want in these spring rolls. I've had a version with basil, lettuce, and carrot strips, and my dad is itching to try shrimp instead of tofu. If you have little kiddos in the kitchen they can get the mint and cilantro ready, which is a big help. I find making the rolls a lot of fun, especially when I sample the wares.