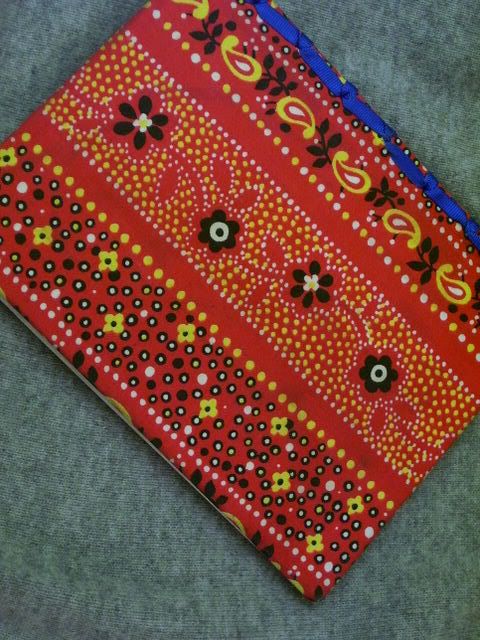 This is one of the other books I made last summer. I found the fabric in a thrift store in the basement of a church. They were only open for three hours a week, and somehow I managed to show up when an entire grocery bag of stuff sold for less than $3. Quite the find.
As soon as I saw the square of this fabric it reminded me of my friend from school. She has a fantastic wardrobe, full of vintage clothes from her grandparents, and she has quite a few dresses and skirts which remind me of illustrations in children's books.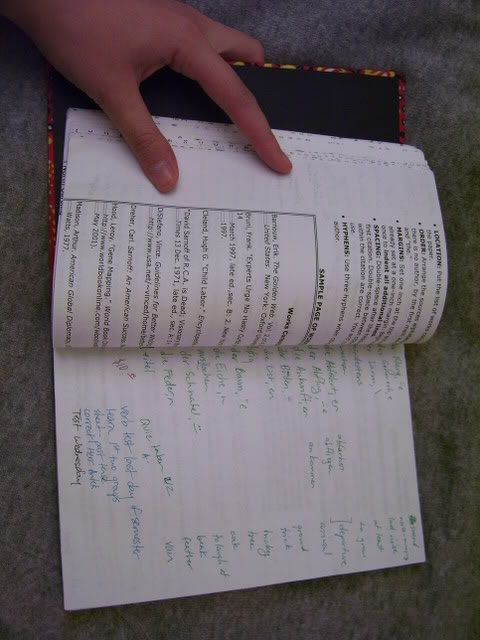 I recycle a stack of paper from high school, so I'm always running across advice on creating a biblio-
graphy or getting into college. I started using this book to write down vocabulary for my German class, but it's the perfect size to fit in a purse or carry around, so I ended up taking a lot of miscellaneous notes down inside.
I didn't want the writable side of the paper to reverse in the middle, so that meant doing without a fold. I used the board from an empty box of airmail stationary for the back. It's held up well, even though it isn't protected by anything, and I love the map. One of my favorite things about this book is that the front and the back are so different.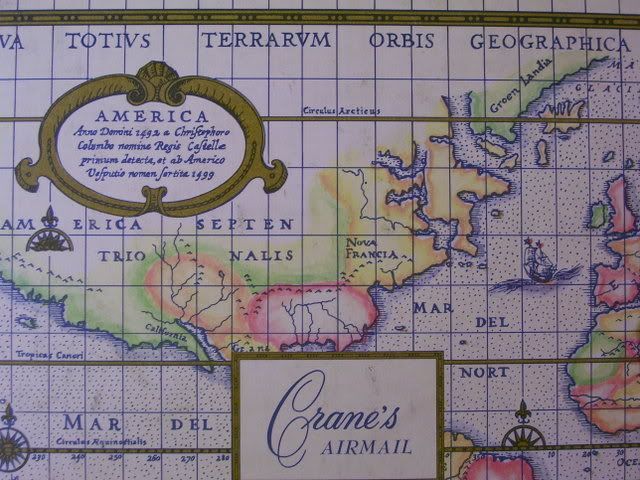 The next project we're working on in my typo-
graphy class is setting and then binding a story that Ann Patchett wrote when she was 19. Yes, that Ann Patchett, the Ann Patchett who wrote
The Magician's Assistant
;
The Patron Saint of Liars
;
Taft
;
Truth and Beauty
; and
Bel Canto
. Yesterday in class we decided on the size of the margins around the text. The dimensions of the page are predetermined by the paper we're using, so that was one less thing to worry about.