The trip to San Antonio was good. We performed well, and all of the conductors had positive things to say. The river walk reminded me of lazy rivers in water parks. I'm excited about our trip to Italy at the end of the year; as my dad would say, "It's a good group. It seems like a good group of kids."
So a small secret about me is that I don't check my mail very frequently. This is due in part to my living on the other side of campus, and partly to my disinterest in walking around in the cold after dinner any farther than necessary. However, we have had some bizarrely warm weather around these parts for the past few days, so when we got back from San Antonio on Sunday I was willing to trek across campus in the dark. I was prepared for an empty mailbox (besides the usual letters from the college about registration) because I thought that the earrings couldn't possibly have arrived, but there they were! It was quite the welcome back. My first etsy purchase!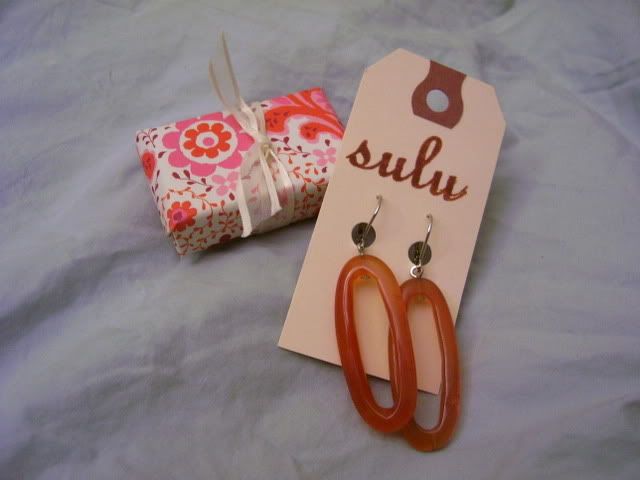 The earrings are such a great color of orange. I don't have that many earrings with me up at school, and most of the earrings I do have lean towards the cooler blue-green side of the spectrum. I think my favorite thing about them is how the color varies slightly throughout. They are the perfect length for my face, and they make me want to wear my hair down, which is highly unusual.
More earrings
by sulu (as well as a more artful and appealing shot of this pair) can be found online, and Susan writes about forthcoming designs
here
.
Disaster number one will have to wait until tomorrow.